All BN.com orders for eligible items totaling $40 or more qualify for Free Standard Shipping within the continental U.S.
 
How do I qualify for Free Standard Shipping on BN.com orders?

  1.  Add at least $40 (before tax is applied) worth of eligible items to your bag.  Each eligible item should have an "Eligible for FREE SHIPPING" message near the "Add to Cart" button on the product page.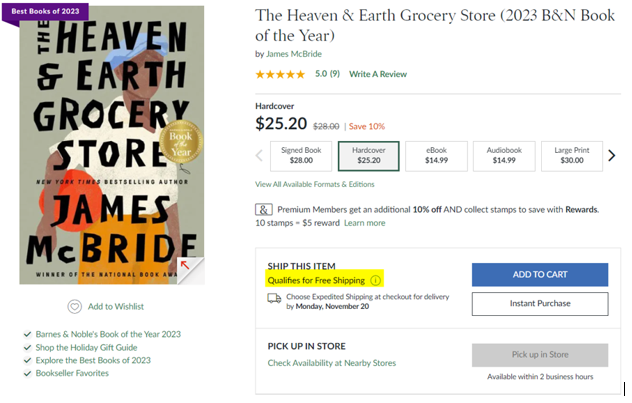 2.  Proceed to Checkout and be sure that the pre-selected "Standard Shipping" option is chosen.

  3.  Complete your Checkout.

More about Free Shipping

     •  Free Shipping applies to orders made at BN.com and shipped within the U.S. only.
     •  The $40 minimum purchase for Non-Members is calculated after all other discounts (including organizational discounts, and/or coupons) are applied.
     •  Charges relating to shipping, handling, taxes, and gift wrapping will not be included to meet the $40 minimum.
     •  Items that are not eligible for Free Shipping:

             • Gift Cards
             • Gift Certificates
             • Magazines
             • Digital products such as eBooks, SparkNotes, Quamut Charts, digital magazines, PDF files, and audiobook MP3s
             • Premium Membership
             • Unusually sized or overweight items 
             • Any other item not identified as eligible for Free Shipping.

     •  Free Shipping does not apply to orders where you changed your shipping preference to something other than "Standard Shipping".
     •  The Free Shipping offer will not apply to any order where cancellations or returns reduce the amount of qualifying purchases to less than $40; Barnes & Noble reserves the right to charge applicable shipping and handling costs to any such orders.

Member Free Shipping

For details about Free Shipping for Premium Members, click here.