To save and manage your Gift Cards and eGift Cards on your BN.com account:
1. Click here to access the "My Account" page.
2. In the Gift Cards section, click the "Manage Gift Cards" button. This navigates you to the Manage Gift Cards page. You may be prompted to sign in to your account.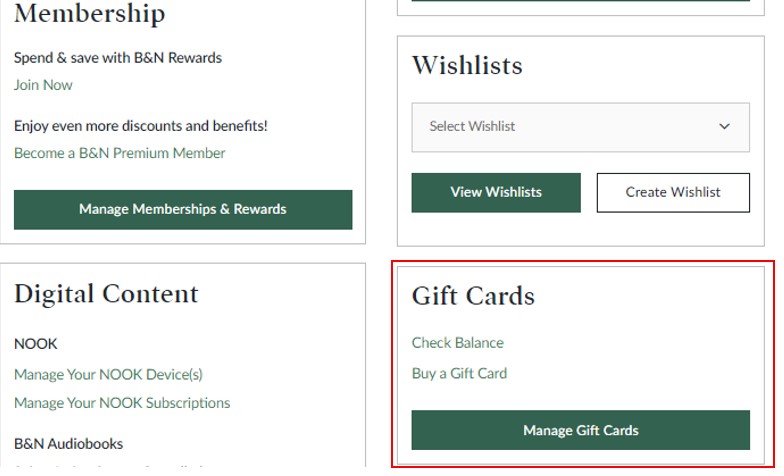 3. Enter your Gift Card number and PIN in the appropriate fields and click Add Gift Card. Only type the numbers for the Gift Card. Do not include any spaces or dashes, as that will cause an error.

The Manage Gift Cards page will also allow you to:
View the Gift Card currently saved on your account

Remove saved Gift Cards

Check the balance of a Gift Card that is not saved to your account
Additional Information
You will only be able to save 6 Gift Cards on your account at one time.
Gift Cards and eGift Cards that are saved to your BN.com account are automatically applied to your next purchase on BN.com, including NOOK content purchases such as eBooks.
Gift Cards will be applied to your orders first before any other payment methods. If the balance on the Gift Card covers the order, your credit card will not be charged.
Gift Cards that are saved to your account are automatically removed when their balance reaches $0.00.
Gift Cards cannot be used to purchase:
Gift Cards/eGift Cards

NOOK Magazine/Newspaper subscriptions
We recommend that you keep your Gift Card after using it until you have received your order and are satisfied with the item(s).
Applying Gift Cards during Checkout
If you are experiencing difficulty or an error when adding a Gift Card and PIN to your account, you can also apply it during Checkout before submitting your order on BN.com. Click here for details.
Gift Cards and eGift Cards are subject to the Barnes & Noble Gift Card Terms and Conditions.