IMPORTANT NOTE - If you are having trouble downloading a pre-ordered eBook that just released, please try moving the title to your archive folder by holding down on the cover image and selecting Archive. Once archived, go to All Titles > Select the Menu to View Archive > Tap the title you wish to Unarchive and it will be added back to your library.
1. Check Wi-Fi Connectivity
First, confirm that your device is connected to Wi-Fi. An internet connection is required in order to download NOOK content. For assistance with Wi-Fi connectivity issues, click here.
2. Refresh Your Library
To Refresh Your Library on Barnes & Noble NOOK App for Android, iOS, and most tablet & mobile devices, swipe down on the Library screen. A refresh icon will briefly appear showing your library is syncing.

To Refresh Your Library on most other devices:

Go to Library.
Tap the menu icon.
Tap Refresh.

Your device may display a Refresh icon on the Library page, which will also refresh your library when tapped.

To refresh a single title, click here for instructions on archiving an eBook.

3. Perform a Soft Reset

Power the device completely off, then turn it back on.
4. Check Software Version
If your NOOK is not on the most up-to-date software version, you may experience difficulty purchasing and downloading your NOOK Content. for more detailed instructions on determining your software version and downloading the update file, if needed.
5. Check Device Compatibility
Access BN.com and search for the title that you're having issues with. Click on the title to access the product details page and confirm that your device is compatible with the content.
Tap on the lowercase i in a circle (shown below) to display content compatibility details.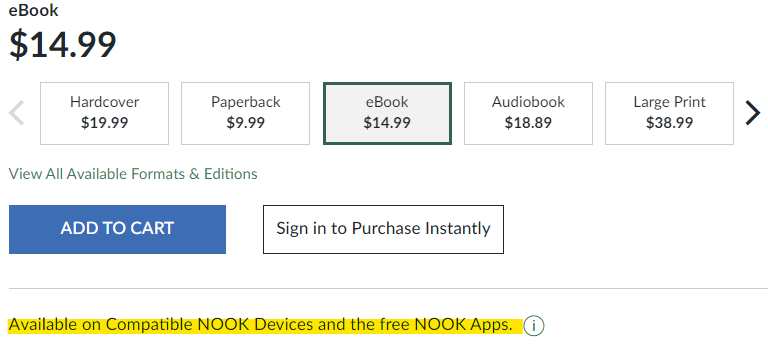 6. Check Payment Method
Confirm that the credit card saved to your BN.com account is valid, as it may have expired. If so, please update the credit card information in your account and try downloading your books again. A valid credit card must be saved to your BN.com account in order to download your content. For instruction on how to update your BN.com payment method, click here.

For more information about credit card requirements to purchase and access NOOK content, click here.
7. Manage Content (For NOOK Devices with Profiles only)
If you have multiple profiles created on your NOOK, the profile you are using may not have access to the book you are trying to open. Click here to learn more about managing content between NOOK Profiles.

Additional Assistance
If you've followed the above steps and your title has blank or missing pages, or simply will not open, we are here to help. Click on the Contact Us button on the bottom of this page to chat, text, or call us for assistance.