As a Premium or Rewards Member, you earn $5 rewards once you have collected 10 stamps by making eligible purchases in $10 increments. Once those rewards are earned, they can be applied to purchases both on bn.com and in Barnes & Noble and Paper Source stores.
On bn.com, after you have added your item(s) to your Cart and signed in to a bn.com account with a linked Membership, a total of your available rewards will be displayed on the Shopping Cart page.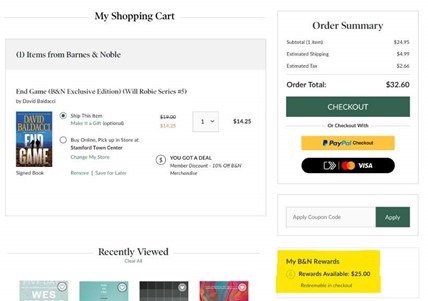 After moving to the Checkout page, open the Apply Rewards section under Membership, Rewards, Gift Cards, and Coupons to choose how much of your available rewards you want to apply to the order (you aren't required to apply any if you're saving up for something big!)
Use the slider or simply type in the amount in the box. You can apply rewards up to the amount of the order subtotal. Rewards cannot be used to pay for taxes or fees.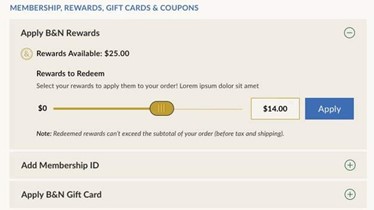 Once you've decided your reward amount, click Apply, and the amount will be redeemed toward the balance of your order. A remaining balance will show you how much you have left in rewards for future purchases.